Door to Door service

adalah layanan pemasangan lcd laptop dirumah atau kantor anda, atau kita janjian untuk ketemu di suatu tempat di Bekasi, Cikarang, Tambun, Cibitung, Jakarta untuk daerah Jogja, Magelang, Muntilan, Sleman silahkan SMS : 0857 1354 9028 ( Taufiq )
Layanan Pemasangan Lcd Laptop Dirumah atau kantor bisa dilayani Hari Senin – Minggu, jam 08.00 – 13.00, waktu pengerjaan sebaiknya diberitahukan minimal 1 hari sebelum pelaksanaan. Layanan pemasangan Door to door service di tambah ongkos transportasi jadi perhitungannya Harga Lcd laptop + Transpotasi.
Penggantian Lcd Laptop sekitar 30 menit lamanya, untuk informasi lebih lanjut silahkan Kontak saya.
Lcd laptop yang pernah diganti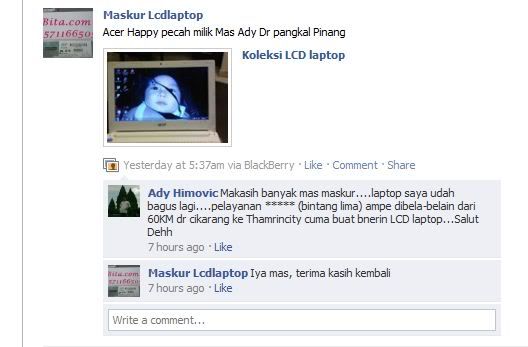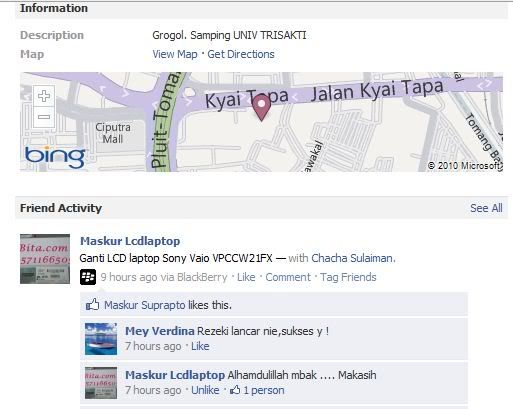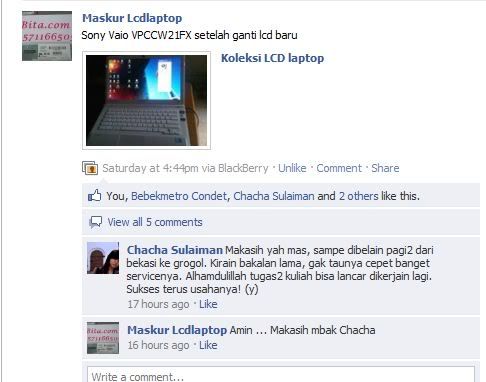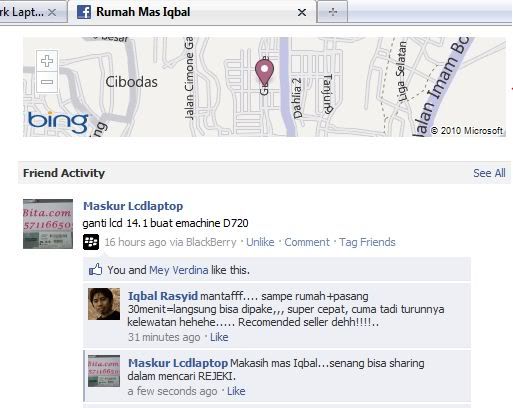 Ganti LED 14.0 Toshiba C640 Milik Mbak Mirfat di SGC cikarang
Ganti Led 14.o Lenovo Z460 Milik Mbak Niken di Cipinang Muara
Hari sabtu 15/9/2012 Ganti lcd laptop @ PDI kramatjati
Hari minggu 16/9/2012 ganti lcd laptop acer 722 di blok M square
Hari minggu 16/9/2012 ganti lcd laptop acer 722 @ pondok rangon, Jaktim
Laptop Sony Vaio Y Series Milik Pak Wiras @ Apartement Rasuna 22/9/2012
Laptop HP Pavilion G4 Milik Mbak Steffani @ Jalan Karbela, Kuningan 22/9/2012
Laptop Dell N4050 milik Ibu Ita @ Perum Depsos, Pasar Rebo 22/9/2012